Posted on April 20, 2020
Telehealth Options You May Be Missing In GMB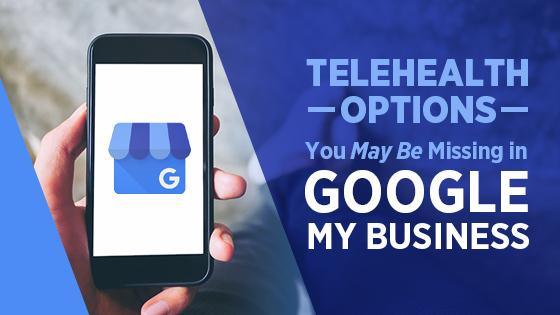 During this time of uncertainty, many patients are turning towards virtual care to fulfill their medical needs. The interest in telehealth and virtual care has risen dramatically during this time.
Because of this, Google has been pushing out a lot of new updates to Google My Business and Google Search. We've been keeping up to date on what's going on, and you can view all the edits Google has made here.
Google even recently published a blog discussing how the need for virtual care options has increased since the start of the pandemic.
We understand that these times are like nothing many have seen before. Keep reading for telehealth options you may be missing in GMB!
Google updates are more frequent than ever before
Through this pandemic, Google has been making many updates to help businesses get through these tough times. More recently, Google has added three new fields in Google My Business and Google Search that will help inform the public of any business updates.
COVID-19 Info Link
Google has begun to automatically surface a brand new "See COVID-19 info for visitors" link on business listings who have a COVID-19 info page on their site. When clicked, this link will send people directly to that page.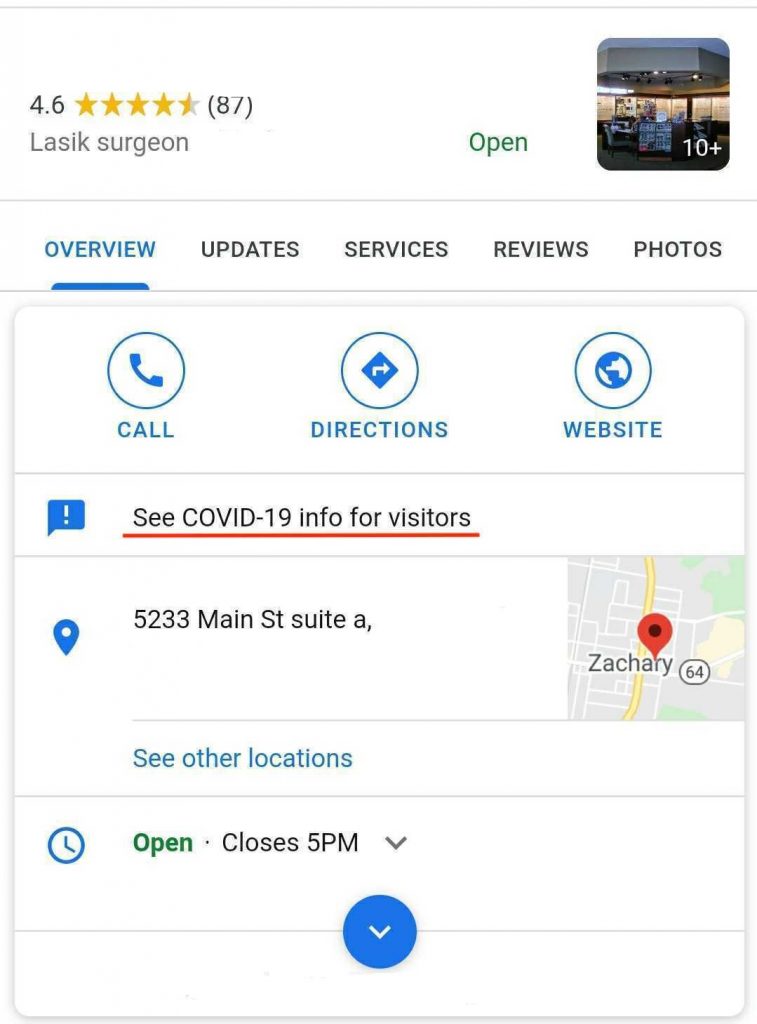 Google has placed this link very high on business knowledge panels in order to quickly get in front of searcher's eyes.
Virtual Care Link
Along with the COVID-19 Info Link, Google has added a "Get Online Care" link right below it for businesses that are offering telehealth. Clicking this link will send people to the business's telehealth info page where they most likely will be able to schedule an appointment.
With social distancing becoming the new normal, Google is making it easier for people to find out if their local healthcare facility is offering virtual care.
Online Care
For people searching for 24/7 access to healthcare professionals online, Google now has a new knowledge panel. The knowledge panel is designed to show widely used virtual care platforms in the U.S.
This panel will show up under the maps when searching for urgent care or immediate care. This panel will also tell users what their out-of-pocket cost is for patients who don't have insurance. Features like these are built to help people avoid exposure and reduce the risk of spreading the virus.
If you have Local SEO services with us, we are in the know about what is going on with your profiles and how to best use each update that is rolling out.
This is not the time to try and navigate your local profiles by yourself.
What is next?
No one at the moment can predict when life will go back to normal. There is a lot that has to happen between now and then.
What we do know is that you all want to be in the position to hire your staff again when the time comes. When you get to that point, you need to hit the ground running.
To do this, you need to continue to optimize and update your website content and local profiles as you would before this pandemic occurred. This alone will help maintain your presence on Google and make sure your practice stays top of mind.
This pandemic has been hard on everyone, businesses and people alike. Unsure about your SEO?
Think now might be the time to get your rankings in order? Contact Glacial Multimedia and see how we can help you!
---