Posted on August 10, 2021
Want Your Practice to Be More Engaging on Social Media But Don't Know What to Do?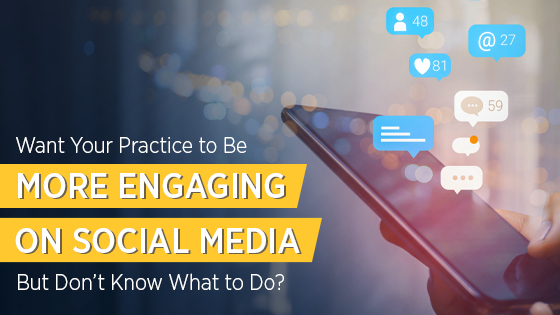 Does your practice want to be more engaging on social media but isn't sure how? Social media is a potentially overlooked but powerful piece of your digital marketing strategy.
Thoughtful or creative content can be one of the many bridges between your practice and current or prospective patients.
At Glacial, we understand that which is why we've recently upgraded our social media management packages to bring a much more customized experience to your practice's social media!
Keep reading to learn more about these new social media packages to find out which one will best suit your practice!
Presence Package:
Ideal Practice: You want your Facebook to post regularly, and as long as it's about eyecare you are not too picky about the content shared.
Our "Presence Package" is what we consider a "hybrid" social media package, focusing on Facebook.
The content here combines a half-and-half mix of relevant, eye care or eye health focused articles or "funnies" styled eye care comics along with posts specific to the services and specialties of your practice.
This package is designed for a practice that is not posting on their own at all, or maybe only one or two times a month, and is looking to develop a consistent posting schedule.
Engagement Package:
Ideal Practice: Your practice uses Facebook AND Instagram, and you want regularly posted content that is relevant to your practice but cannot consistently provide or create content individualized to the practice.
The "Engagement Package" is the first level of our fully custom social media packages. This package includes Instagram posting, and every post is tailored to the practice and its specific services/doctors.
You'll get all custom Instagram and Facebook posts, each one specifically featuring different aspects of your practice sourced from the content on your website. This is along with monthly healthcare observances, and animations made in-house to add an element of video content to round out the content mix.
This package also includes a $50 boosted Facebook post to increase the reach and engagement of one post per month!
This package is perfect for a practice that wants custom content specifically created for their practice around your services but may not have the facilities to create your own content consistently in-house.
Elite Engagement Package:
Ideal Practice: Your practice has a marketing department and wants to be actively involved with its content. You can supply content and can regularly communicate with our social team to collaborate on your content.
This is the highest level of social media management on offer at Glacial!
Not only do you get everything that is included in the engagement package, but the posts are more custom-tailored to your practice with content directly from your practice.
A practice that has an involved marketing team or dedicated marketing team member, who can regularly meet with our social media specialist is the ideal candidate for this package.
This package is based on collaboration between Glacial and the practice to create a completely individual social media experience for the practice, intended to feel as if we were directly in the practice when making the content for you.
Along with the regular meetings with our social media team to discuss content, this package also comes with a monthly boost credit like the engagement plan!
Ready to take your practice's social media marketing to the next level? Contact your client manager to learn more!
---