Posted on June 15, 2021
6 Things To Remember Before Running Your Next Digital Marketing Campaign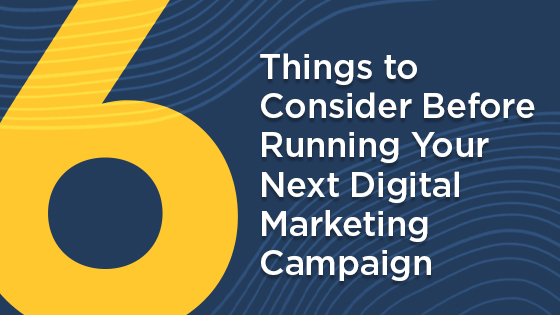 Does your digital marketing agency make you feel like you matter or do you feel like a little fish in a big sea of practices? Having a team that cares is one of the many differentiators here at Glacial, and it makes all the difference.
Keep reading for 6 things to consider before running your next digital marketing campaign!
1. How much experience does your marketing firm have?
At our core, one of the things that make us great to work with is the fact that Glacial has 20 years of medical marketing experience. From paid search, content marketing, and social advertising, to a top-notch client management team and more, we know ophthalmology.
It shows in the innovative and modern websites we design and the incredible results that our clients achieve every day.
2. Is work being completed in-house or is it outsourced?
Design is a big component for client success, and it's all thanks to the fact that our team is local. Not only are all of our designs completed here in Portland, Maine, but our entire team is in Portland, including our content writers, internet marketing specialists, sales, and consultants.
Nothing is outsourced, so you'll always know where your content, website edits, and designs are coming from.
3. Do you have a dedicated marketing team working for your practice?
With Glacial, each practice gets a team of anywhere between 3-7 specialists working for them. Specialists only focus on their specialty, meaning they know all the ins and outs of the subject at hand.
When you're running a digital marketing campaign, these are the things that you need on your side if you want to succeed! In addition to specialists, consultants provide extensive digital marketing strategies and recommendations for your account.
We want to see all of our clients succeed. Whether you're launching a six-month campaign or a shorter one, it's important to have reporting, analytics, and data to look at.
4. Do you get to keep everything your marketing company creates for you?
If you're worried about buying a page of content for your website because you won't own it, there's no need to worry about this with Glacial. You own everything forever with us.
That includes your website, content, and software. Once you've paid for something, it's yours to keep. There are no gimmicks, no fine print, and no hoops to jump through. Once you buy it, it's yours.
5. Does the marketing team offer simple and seamless onboarding?
No matter what kind of business someone has, one of the most frustrating components is onboarding. That's why we developed an easy onboarding process for all new clients of Glacial.
The onboarding program includes a discovery timeline, call agenda, and expectation timelines and guidelines. Setting expectations at the beginning of a new project is one of the smartest things to do, but many digital marketing campaigns fail to do this.
6. You're in control with no long-term contracts
You don't have to worry about risks because we'll absorb all of them for you. There are no long-term contracts and we only need 90 day-notice for cancelations, so you never feel like you're stuck in a deal you can't get out of.
If you're not happy, let us know and we will do our very best to make things right.
There are a lot of ways to run digital marketing campaigns, but at the end of the day, it's important to always feel like you're being taken care of. Want to learn more about Glacial and what sets us apart in the digital marketing sea? Contact us now to request a website audit!
---