Posted on January 3, 2017
We Are Doing a Lot in 2017 (Podcast)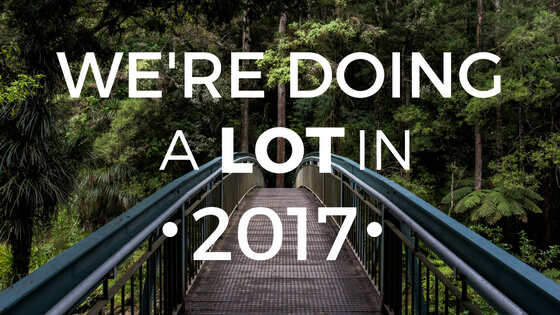 To listen to the "We're Doing A Lot In 2017" podcast, download our app! Available on iOS and Android.
The year 2016 was chock-full of major world events, some good and some bad. After everything that happened this past year, it's a safe bet that most of you want to crawl under a rock, curl up in a blanket and watch Netflix for the foreseeable future. Luckily, you have us here at Glacial to do all the thinking for you (at least when it comes to digital marketing.)
2016 was eventful for us. After a whirlwind of growth, change, and improvement, it's probably unsurprising to hear that we're striving for even more this year. When we think back on all of the things we've done in 2016, and all of the things we plan to do in 2017, it suffices to say that we're doing a lot.
In 2017, we move on and forward. That means adding to our already substantial digital marketing repertoire. It was difficult to narrow down to the most important and exciting stuff we're planning in 2017, but we managed.
THE PUSH ON HIPAA COMPLIANCY
This year, we're working hard to make sure our clients and staff are aware of just how important HIPAA compliance is, and the many ways in which it can be breached. Because we work so closely with ophthalmologists and other medical professionals, HIPAA is something we must pay very close attention to.
In 2017, we're taking on the big task of ensuring that the protected health information (PHI) sent through our forms never gets into the wrong hands. This means big changes for our clients and employees. We're installing better safeguards, more encryption and sending out business associate agreements (BAA) to our clients. Expect to hear much more on this in 2017.
RESPONSIVE 2.0
If you've been paying attention for the last few years, you probably already know how important it is to have a responsive website. Responsive websites are made to be viewed on any device, or in any size browser window while maintaining its usability. Seeing as people are constantly moving from their desktops to their tablets, to their smartphones, it's extremely important to make sure your website is optimized for all devices.
At Glacial, we have been exclusively designing responsive websites for the past two or so years. But in 2017, we're working on fine-tuning this even more. It's more than just designing your website to fit on a screen, it's about the user experience. Today, we realize that people use different platforms for different things. Therefore, calls to action will differ from mobile to tablet, to desktop.
USING SOCIAL MEDIA AS A BRANDING TOOL
In the world of internet marketing, we like to think of two general categories: marketing that generates leads, and marketing to get your name out there. Examples of these lead generators can be remarketing and search ads, which target people who actively seek out your services. On the other hand, you have social media.
Social media is not generally known for it's lead generating ability (although, it's not impossible to get leads from social media.) Social media allows you to brand your practice, generate buzz and create a unique brand identity. You can talk to your patients, get involved in your community and overall seem more human to your current and potential patients.
Social media marketing also helps to expand your net. You aren't targeting people who are seeking out your services, but instead marketing yourself to people who didn't even know you existed. This builds brand recognition. When that person needs your services in the future, they're more likely to come to you because of that familiarity.
2017, HERE WE COME!
Video advertising, app development, reputation management, content marketing, geofencing, and much more are making an appearance on our 2017 roster. While these topics don't even come close to everything we plan on doing this year, you probably get the point.
We want you to be as excited as we are about this new year in digital marketing. Give us a call and let's talk about how we can help you grow your practice in 2017.
---