Posted on May 11, 2021
10 Key Points For Modern Medical Website Design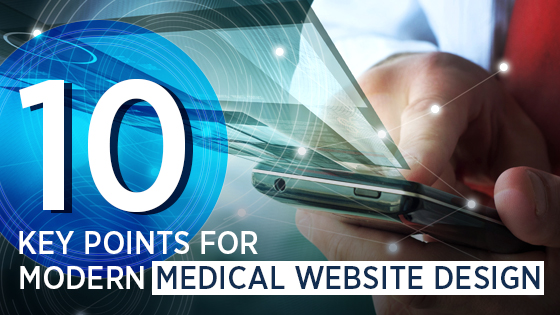 When it comes to designing a modern medical website, it's never been more important to keep some key points in mind during the design process. Not sure where to start? Continue reading for 10 key points for modern medical website design!
1. Get Load Speed and Google Vitals Set
Ever heard that it's nice to have a fast website but not necessary? This is no longer true, and now, you need a fast website as the digital landscape only continues to become more competitive.
Google's Core Web Vitals are coming in the middle of June and this will be an important algorithm update that could hurt web rankings. In other words, how fast your website loads, interactivity, and the stability of your content as it loads on your website will now be part of what's taken into account for Google search rankings.
2. Embrace Engagement Tools like CTAs, Self Tests, and more
Another extremely important component of a well-designed website is engagement tools. In ophthalmology especially, these are the perfect way to keep patients engaged when they want to learn more about procedures like LASIK or cataract surgery.
With self-tests, requests for in-person or virtual consultations, and LASIK pricing forms, to name a few, you'll provide plenty of options to a patient or a prospective patient. Engaging patients is crucial when they are still in the "thinking about it" phase.
These CTAs are a tool for you to know about your prospective patient and provide them educational materials to help them make a decision and to see the value of your practice.
3. Make Your Website ADA Compliant
There is no excuse for having a medical website that isn't ADA compliant. With an ADA-compliant website, your website will be accessible according to the Americans with Disabilities Act WCAG 2.1 standards.
This means that your website is easily accessible to anyone, even if they may have disabilities that make it difficult to see, hear, or other difficulties. Websites that don't follow these provisions are subject to fines and potential lawsuits.
ADA compliance is standard in all of our new websites effective 2020. Depending on the age of your website, we can also optimize for ADA Compliance post-launch. Contact your Glacial Client Manager or call us for more information.
4. Any Forms with PHI Must be HIPAA Compliant
It can seem easy to forget about forms on your website, but it's a pretty important part of your website running smoothly. If you have any PHI on your forms (Patient Health Information like date of birth, social security number, etc), you need to have HIPAA compliant forms.
These forms look similar to our existing contact and intake forms but Glacial hosts the responses on a HIPAA Compliant software called MDcompliant. Because of the security on MDcompliant, your practice can include Medical History Forms, Medical Records Release, and more directly on your website. If you need these, make sure to contact your client manager before your new website launches!
5. Use Cloudflare to Keep Your Site Secure and Fast
Site security is another big part of how to keep your website up and functional when you need it most. With services like Cloudflare, your website will stay live and it will be protected from hackers.
Using Cloudflare also increases site speed, which is an important part of the upcoming Google Core Vitals update rolling out shortly in June.
6. Modern and Minimal Design
When you're creating a beautiful new website, less is more. A modern and minimal design is the best way to go, as having too much going on can distract patients that visit your website.
With website design, you may have heard that the website is your new front door, and it makes sense. After all, it's the first thing that people see, especially prospective new patients.
In the age of "try before you buy", it's more and more common for a potential patient to research online before choosing the practice they want to go to. If you have an old and outdated website, they may leave and go with a competitor who has a new, modern website instead.
Even if you think that you're a state-of-the-art practice, if your website looks like it was built twenty years ago, it's not giving off the right message.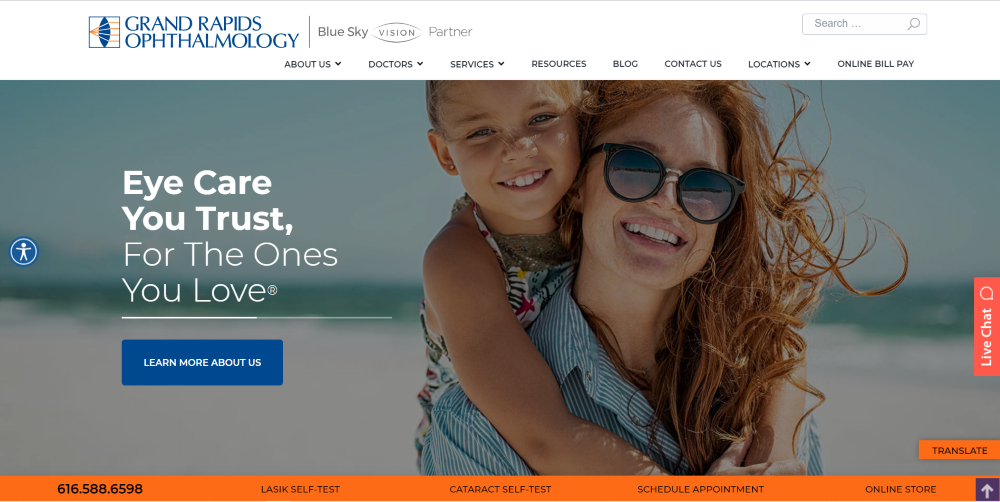 With these websites, patient engagement is at the forefront. Content is easy to find, and patients don't have to search endlessly for what they're looking for.
Oh, and this should go without saying: they are both responsive websites as well. This means that if you look at them on your smartphone, you'll have a seamless experience.
Whether you're on a desktop computer, a tablet, or a phone, the website will look perfect on every device. A responsive design will respond accordingly so that the user has a great experience, no matter how they view the website.
7. Use Patient First Messaging on Your Website
Does your website contain calls to action that direct patients to take the next step? With patient first messaging, you will simplify the process for patients to fill out forms, request an appointment, or simply learn more about a procedure.
Hunting for the information is a bad design and will result in patients getting frustrated and leaving your website. A beautiful website won't help if you don't have CTAs that help patients understand what your practice has to offer them.
8. Embrace the Power of Blogging and Content
Think that blogs are useless? Think again! Having a good content marketing strategy that includes a regular blogging schedule is a great way to increase your rankings, but you need to do it correctly.
A good blog is not an academic article, but a totally different form of writing. Combine your blogging strategy with solid pillar pages that are informative on your website, and your practice can be both effective and successful.
9. Offer Online Payment Solutions
Have you heard from patients that they wish your medical website included online payment options? Giving patients the option to pay online is a good idea because it's easy, convenient, and it may be able to reduce the amount of time it takes your practice to receive payments.
These are things that Glacial offers, so contact us if you want to learn more about how you can add online payment options to your website!
10. Explore AI Options for Engagement without Touching Design
AI is an incredibly exciting field for healthcare website design. It is possible to add AI elements to your website without bogging down its design, like MDchatbot.
Using an AI-based chatbot can help enhance the patient experience as well as improve conversion rates. Using text messaging, audio, video chats, and AI chatbots on your website will allow you to engage your patients more thoroughly without touching any of the design features that make your website work and function. Contact us to learn more about the AI options Glacial can offer!
With these 10 key tips, your new medical website will be the talk of the town! Unhappy with your current website?
Glacial Multimedia is here to help! Contact us to learn how we can transform your website and take your practice's digital marketing efforts to the next level!
Contact Us For A Website Quote
---