Posted on May 17, 2017
An Internet Marketing Consultant's Experience at ASCRS 2017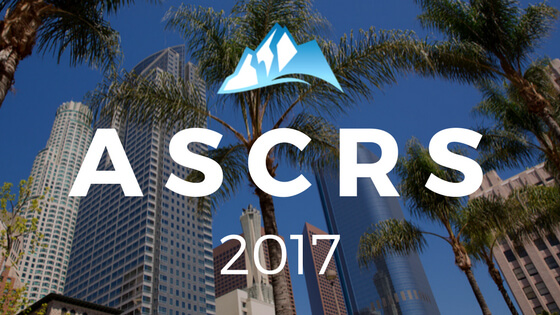 AMO UNIVERSITY
This was my second time attending ASCRS, but my very first time at AMO University. I wasn't entirely sure what to expect. Let's just say I was impressed (and educated) when I left!
As a vendor, Glacial set up a booth and greeted current clients as well as some new faces. We talked about what Glacial does, name-dropped our industry leading clients and spent time with companies we partner with. I skipped out of sitting at the booth and went to a couple of the classes in the morning.
I've heard both Michael King and Nick Sideris speak before. Every time I see them, I see their passion for their work. You know they have done their research and they are ready to share their knowledge with the rest of the ophthalmology industry.
MICHAEL KING – INTERNET MARKETING BREAKTHROUGH
Here are a few takeaways from Michael King's 60-minute "Internet Marketing Breakthrough" class.
Educating & Building Trust.
This is number one for a good reason. You must provide value to your users and potential patients before they will trust you. Your website should have important information about the procedures you provide – not the technical content, but the "what to expect the day of LASIK surgery" kind of content. Make them feel confident enough in your website to make that call for the consultation!
Optimize what you have FIRST.
This seems so obvious, but is usually skipped. If your website is not responsive or is lacking content, you need to fix this. Leverage what you have but also make sure it's up to the industry standard. Responsive websites are the very basics of any Internet marketing strategy. After, meet with your Digital Marketing Consultant/Client Manager at Glacial to determine how to optimize your website. Optimization can range from SEO and ranking to placement of lead generating tools.
Ready, Fire, Aim.
Did you think my notes are wrong? Don't I mean Ready, Aim, Fire? Nope! He said this out of order intentionally. Michael discussed how strategy and execution are completely different but need to work together. How, you ask? Use a priority list. Get ready for the campaign, execute the campaign but then optimize as you go. Don't start a campaign and let it drive hands free – check it, make it better.
NICK SIDERIS – CREATING BUZZ WITH YOUR MILLENNIAL LASIK PATIENT
Nick Sideris is excellent at social media. That's his 'thing' and he owns it. Millennial marketing is part of nearly every conversation my team has with their clients and it's for good reason. Who are millennials? What do they want? How do we reach them? If you haven't been asking these questions as a LASIK practice, you should be!
Johnson & Johnson put together a Tumblr account with ideas to grow your social media presence and engage with millennials. Use the hassles and frustrations they experience to make them engage.
Nick used an article about doing yoga with eyeglasses on and caused a ruckus on Facebook. He had two office staff do a yoga challenge wearing glasses from their optical shop. The staff tried to NOT lose their glasses while doing some common yoga poses like downward dog. Glasses fell off nearly every time. Yoga is excellent exercise and very popular right now. Leverage that. No one wants to do yoga with glasses!
So how did Nick decide to get this on Facebook? Facebook Live of course! Why not? It's raw video – its real time. And guess what? It's also FREE. Facebook Live seems to be pretty intimidating to our clients, but it is free marketing. Maybe you don't see a conversion on a Yoga Glasses Challenge, but maybe you do. That's free money sitting out on social media (the natural habitat of the millennial.) Take advantage of it.
NOW, LET'S DISCUSS SOME TRENDS SEEN THROUGH THE REST OF THE WEEKEND AT ASCRS!
REPUTATION MANAGEMENT & ONLINE REVIEWS
This is more important than ever. I dare you to Google your practice's reviews. If you see anything below 4.5 stars, then you have work to do. This means nearly every eye care practice has work to do. There are a number of software companies providing help with reputation management. I want to note something that is extremely important when you are considering reputation management software. I cannot stress this enough with my own clients.
Does the software request reviews on third party sites?
If this answer is no, don't waste your money. If you're going to take the time to ask patients to leave you a review, you should leverage it. When you are Googling your practice's reviews, you're likely looking at Healthgrades, Google My Business (map listings), Yelp, and Facebook, among others.
I understand practices can be nervous about patients reviewing directly on these sites, but let's face it, at some point you will gain a negative review. It makes you look real. On the flip side, if you are only receiving negative reviews, then you need to look at making internal changes. We have some great partners that can help a practice with in-office strategies and protocols too.
Glacial developed a reputation management software called MDidentity. It filters negative reviews internally and pushes patients to leave positive reviews on these third-party sites where it really matters!
SOCIAL MEDIA
There is obviously a lot of buzz around social media right now. However, a lot of companies are using generic content that doesn't help clients create a brand identity cohesive with the practice. It sounds like a lot of practices are realizing this and taking it into their own hands. As an internet marketing agency that sells social media, I admit this is better. Practices need to be involved to get the most out of social media.
When the practice makes posts in addition to ours, we see an increase in their following and more engagement across all posts. If you are posting to your practice's social media, don't forget to ask people to complete a call-to-action. Post about your LASIK self-evaluation, remind your followers about your limited time deal or that you provide free consultations. You can even introduce them to members of your team with a weekly department highlight! The possibilities are truly endless.
FACEBOOK LIVE
I would recommend for all LASIK practice's to perform a surgery on Facebook Live. There is a strategy here – don't just turn it on in the middle of the surgery! Tell a story with this by interviewing the patient before the procedure, film the procedure and again after. It is great to have the patient involved and excited about participating in your live video! We have seen some doctors perform LASIK on one of their staff for the purpose of filming. They have started with an employee and branched out to asking patients!
As I said, this was my second year at ASCRS. Last year was a bit of a whirlwind. Meeting my clients in person for the first time, comprehending how large the ophthalmology field is, meeting vendors and other companies we work with frequently, meeting new people interested in our services was a lot. This year I was more settled and knew what to expect. I was able to take in much more information and learn from Glacial partners and other industry leaders.
---