Posted on March 29, 2023
12 Must-Have Parts of an Orthopedic Website Design
Does your orthopedic practice need more leads? Did your biggest competitor just launch a brand new custom website and rebranding campaign? Are you a new orthopedic surgeon just getting your practice started?
In today's mobile-first, highly competitive digital age; having a great website design that features modern design components is key to ensuring your website is optimized towards your business goals and can be the foundation of your online marketing efforts. Keep reading to learn about the 12 must-have web design elements any orthopedic clinic website must have!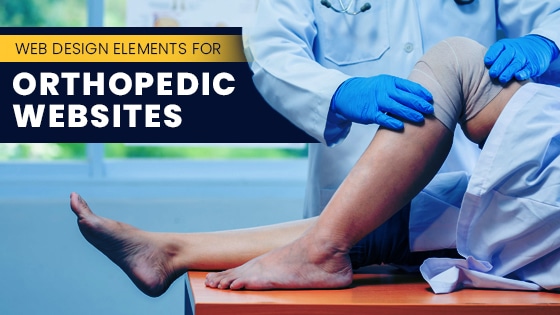 1. Clean Navigational Menu and Site Structure
Your orthopedic patients need to be able to navigate your website easily. A clean and organized navigational menu and site structure are essential for your website.
However, making it easy for patients to navigate your website doesn't mean you can't cover all necessary information. Instead, you can have plenty of information by utilizing drop-down menus in your navigation.
Drop-downs make your navigation a breeze to understand, regardless of where patients access your site. This site structure is also optimal for SEO, making it easy for search engines to crawl your website.
Your website should have a logical hierarchy and construction. To keep patients happy and ensure that search engines can crawl your site, an easy navigational menu and site structure will pay off on your orthopedic website.
2. Symptom Checkers
Symptom checkers are an excellent way for patients to evaluate their pain before they arrive for an appointment at your practice. This tool can help patients determine if they have a bone or soft tissue injury and identify common sports injuries such as knee, elbow, shoulder, and ankle injuries.
3. Online Appointment Scheduling
Having online appointment scheduling available on your website is a must-have element. Patients should be able to schedule appointments with ease and convenience directly from your website. In a 2021 national survey, 49% of patients surveyed said that they needed the option for online appointment scheduling if they were looking for a new provider. If you want to keep patients happy, it's clear that offering online appointment scheduling is a must.
Giving patients this option puts the control in their hands. With online scheduling, they'll no longer have to worry about squeezing in time to call during their work hours or hoping to get through on a busy line.
Instead, with online appointment scheduling, you can sync appointments directly with your booking software and fill any open spots. It is a clever way to reduce no-shows and fill more openings.
4. Forms with SMS Texting Opt-In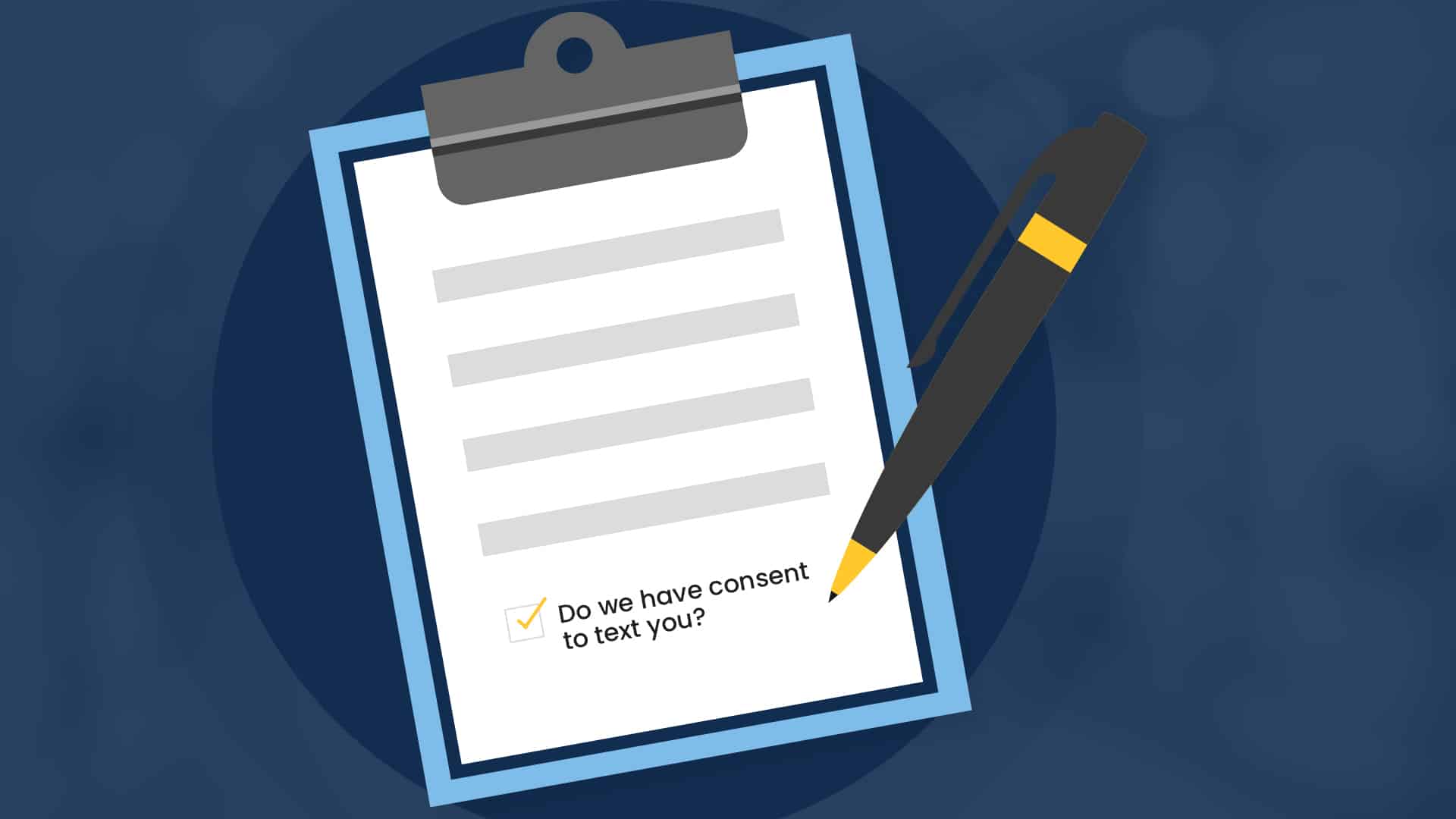 Not only should online forms be HIPAA compliant, they should also have a checkbox or section for an SMS texting opt-in allowing patients to receive reminders and notifications via text messaging. This feature provides an additional layer of convenience for patients and can help keep them engaged with your practice.
Rather than relying on phone calls and hoping that patients answer the phone, text messages are one of the most efficient ways to get ahold of patients and can help reduce no-shows at your orthopedic practice.
5. Cost and Financing Information
Providing cost and financing information is crucial for patients, and "how much does X procedure cost" is a high volume keyword many patients are searching for.
Your patients will appreciate the transparency of your practice providing this information. Providing cost and financing information on your website shows that you care about your patients being able to make informed decisions regarding their care.
This information is just one of the many ways patients could judge your practice compared to your competition.
6. Self-Evaluation Tests
Self-evaluation tests are extremely valuable tools that all orthopedic practices should have on their website. With this tool, potential patients can instantly determine if they could be a good candidate for hip, knee, or shoulder replacement.
Not only can these potential patients find out if they qualify for these procedures, but they can also receive instant communication from your practice with a self-test. One of your staff members can call them, schedule a consultation, and start them becoming patients.
7. Pillar Pages for Every Service
Pillar pages are the best way to provide comprehensive information about the services you offer at your orthopedic service. These pages explain the procedure, what to expect during it, who may be a good candidate, and give information and links to doctor bio pages.
However, pillar pages also help in another crucial arena: SEO. If you want to rank for specific orthopedic services, pillar pages are the best way to achieve this. As identified in this SemRush article, high-performing pillar pages help build a complete content marketing strategy that can help with SEO. It's also an excellent way of educating your patients on certain topics like sports surgery, foot and ankle needs, or joint replacement.
A well-written pillar page is not only a great way of giving information to patients, but it's also used for ranking on Google. Having pillar pages is a significant part of how to get certain terms to rank.
8. Trust Signals
Trust signals refer to reviews and testimonials. These are crucial components of an orthopedic website.
As the name suggests, using these trust signals can help build trust. Not only are you building trust with your potential patients, but you're also building upon your existing patient base and making it stronger.
Use genuine patient reviews and testimonials to show patients and leads exactly what they can expect when they choose your practice.
9. Up-To-Date Location and Provider Information
Think of your orthopedic website as the new front door of your practice. You only get one shot at a first impression; with most potential patients, that first impression is by looking at your website.
That's why your website always needs the most up-to-date information regarding your location and providers. You want your patients to find you, right?
Keeping this information accurate ensures that your patients can always find you. Accurate provider information also guarantees that patients know what to expect when seeing someone at your practice. It also helps if they are looking for a specific provider.
10. Subscription to an Email Newsletter
Building your email list is one of the best ways to increase leads. Giving patients the option to subscribe to your email list should be one of the easiest things to find on your website.
Email marketing helps keep your patients engaged and informed of updates or changes. Make the option to sign up for your email list something centrally located. Consider using a pop-up to grab attention when they first come onto your site.
11. Engagement with Social Media
Your orthopedic website will only get you so far, so you can't forget about social media. It's a great way of building brand awareness and connecting with potential patients.
Remember to include links to your social media profiles on our website so patients can connect with and engage with your practice on social media.
12. Informative Blog Section
Blogs are here to stay and can make a big difference when developing a content marketing strategy for your orthopedic practice! If you're going to have a blog, it has to be informative.
Use your blog to provide patients with relevant information about their healthcare needs. You should focus on sport-specific, joint-specific, and age-specific content that funnels people to self-tests and lead generators.
Blogs should be informative yet still engaging. Rather than writing like a doctor or a surgeon, write for your patients. Answer frequently asked questions or answer the things you know they want to ask but are too nervous to ask. Use your experience to your advantage. Like most web content, blogs are also a great SEO tool when they are written with keywords and ranking in mind.
Putting All 12 Design Elements Together
Incorporating these 12 must-have web design elements for orthopedic websites into your website allows you to create a compelling and user-friendly website that will attract new patients, retain your current patients, and help you rise above your competition. Stand out from the crowd by contacting Glacial Multimedia about your orthopedic digital marketing needs!
---