Posted on April 5, 2023
12 'Must-Have' Web Design Elements for Bariatric Websites
Websites have become the modern-day equivalent of the front door as they often serve as the primary point of contact for those seeking information on various procedures, including bariatric surgery. Ensuring your website effectively communicates information to potential patients and leaves a positive first impression is essential.
It's also crucial to have a visually appealing web design that is user-friendly and informative. Keep reading to learn twelve key web design elements your bariatric website should have to stand out from the competition and attract more clients!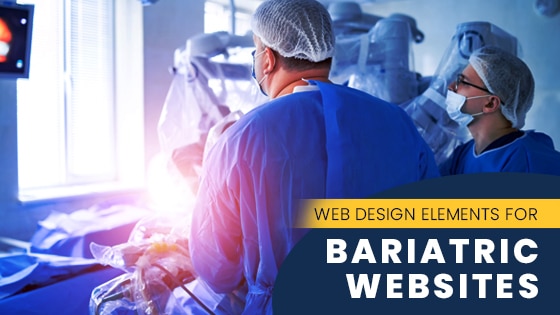 1. Clean Navigational Menu and Site Structure
When designing a website for your bariatric practice, having a clean and organized navigational menu and site structure is crucial. According to recent studies, 89% of US adults state that ease of access is important when interacting with their healthcare provider.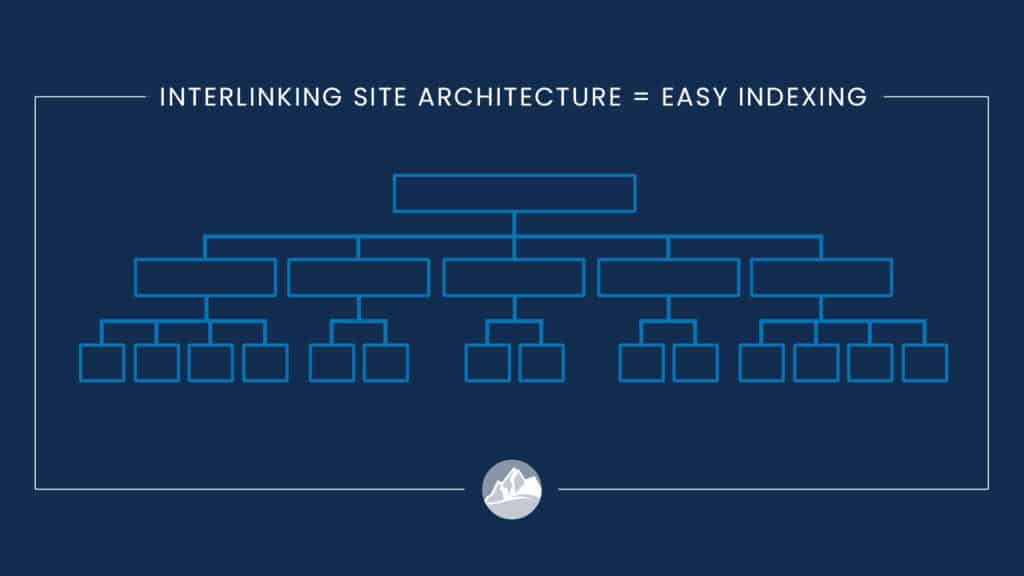 Having an organized and user-friendly website can help increase patient satisfaction. It also makes it easy for patients to find the information they need and ensures that search engines can easily crawl your website and index your pages.
This can improve your search engine rankings and help potential patients easily find your website. Consider using drop-down menus or sub-menus to organize your content into categories, making it easy for patients to find what they're looking for.
2. Symptom Checkers
Symptom checkers are a valuable tool, allowing potential patients to quickly and easily determine whether their symptoms may indicate a certain health condition. When designing a bariatric website, including a symptom checker can provide additional patient support.
Including a symptom checker on your bariatric website can provide peace of mind for patients and help them make informed decisions about their health. By providing a user-friendly and accurate tool, you can enhance the patient experience and build trust with your audience.
3. BMI Calculator
Including a BMI calculator on your bariatric website can help patients quickly and easily determine their BMI and understand their weight status. BMI calculators can be easily integrated into your website.
There are several different options to choose from, including basic calculators that require only height and weight inputs and more advanced calculators that consider additional factors such as age, gender, and body composition. By offering a reliable and easy-to-use tool, you can also position your practice as a trusted resource for bariatric health information and support.
4. Forms With SMS Texting Opti-In
Forms with SMS texting opt-in can be a powerful way to connect with further possible bariatric patients and provide ongoing support and guidance throughout their weight loss journey. By offering patients the option to opt-in to text message updates, you can keep them engaged and motivated while providing helpful reminders and tips.
5. Cost and Financing Information
"How much does bariatric surgery cost?" is one of the most common search terms for those exploring weight loss surgery options. To help these patients make informed decisions, practices must provide clear information and be transparent about the costs involved.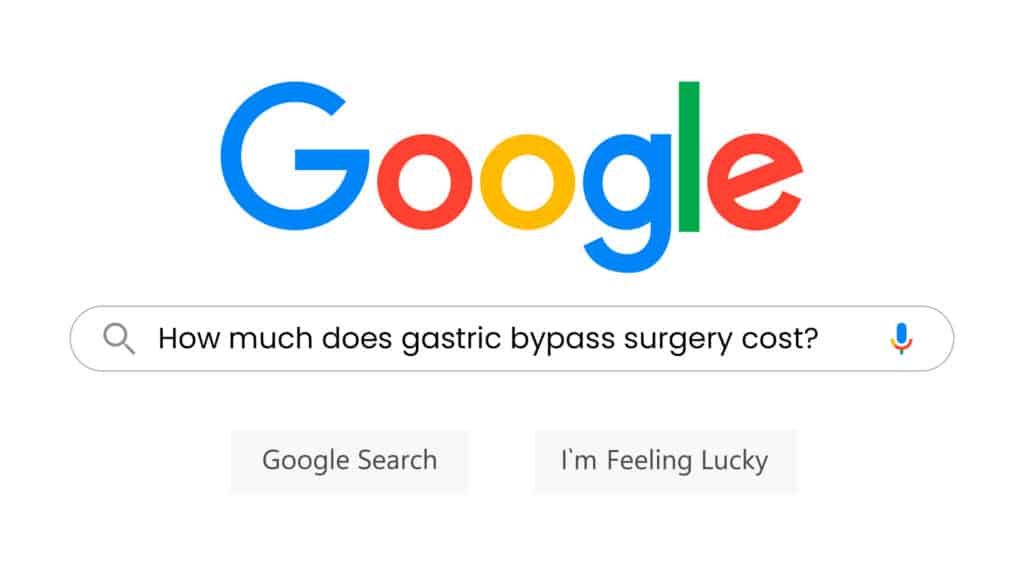 Including a section on your bariatric website that outlines the costs of surgery, as well as financing options and insurance coverage, can help patients plan and budget for the procedure. When designing this section, consider including detailed information on the following:
The costs of bariatric surgery, including any preoperative testing and post-operative care
Financing options, such as payment plans or medical financing companies
Insurance coverage, including which procedures are covered and any out-of-pocket expenses
Accepted insurance plans, if applicable
Being transparent about costs will create trust between your practice and potential patients while also creating a resourceful guide for those considering bariatric surgery.
6. Self Evaluation Tests
Self-tests can be a valuable resource for those considering weight loss surgery. These tests can help patients determine if they are a good candidate for a specific bariatric procedure and can encourage them to schedule an appointment at your practice.
When designing self-evaluation tests for your bariatric website, consider including tests for any procedures your practice offers. You may include self-evaluation tests for procedures like:
Gastric-sleeve
Gastric-bypass
Gastric-band
Revisional gastric surgery
Gastric balloon
The self-evaluation tests for these procedures could evaluate the patient's previous weight loss surgery, BMI, dietary habits, and medical history to determine if they are a good candidate for revisional surgery. These tests can also help increase patient leads.
7. Pillar Pages for Every Service
Pillar pages are a great way to organize content on your bariatric website and provide in-depth information about specific procedures. When creating pillar pages for your services, consider including the following elements:
What the Procedure Is
Provide a clear and concise explanation of the procedure, including the expected outcomes and potential risks.
Who is a Likely Candidate
Describe the characteristics of patients who are good candidates for the procedure, including BMI, medical history, and lifestyle habits.
Links to Doctor Pages Who Perform Related Procedures
Include links to the profiles of the healthcare providers who perform the procedure and information on related procedures offered.
By creating pillar pages for every service, your bariatric website can provide detailed information on each procedure, making it easier for patients to understand their options.
8. Trust Signals
Trust signals are an essential element of any healthcare website, as they can help build trust with potential patients and demonstrate your practice's commitment to providing high-quality care. Displaying reviews on your website and Google My Business (GMB) profile can help build trust with potential patients.
Consider including a feed of recent reviews on your homepage and encouraging satisfied patients to leave reviews on your GMB profile. Including testimonials from actual patients can also be a powerful way to build trust with potential patients.
Also, consider featuring testimonials from patients who have undergone different procedures, and make sure to include the testimonial date to demonstrate recency.
9. Up to Date Location and Provider Information
Providing up-to-date location and provider information is essential for a successful bariatric practice's website. Patients searching for weight loss surgery options want to know where your practice is located, who the providers are, and what services you offer.
To ensure your website meets these needs, include detailed information about your location, providers, and services. Include detailed provider profiles for your bariatric surgeons, highlighting their education, experience, and specialties.
This will give potential patients a better understanding of your practice's expertise and experience and help patients understand what to expect when choosing your practice for their weight loss surgery needs.
10. Subscription to Newsletter
One of the most effective ways to build a relationship with potential bariatric patients is through a newsletter. A newsletter allows you to stay in touch with subscribers regularly, providing them with helpful information, updates about your practice, and special offers.
Once you've built your subscriber list, send regular newsletters with valuable information about weight loss surgery, healthy lifestyle habits, and updates about your practice. Remember, always work on building your email list by actively promoting your newsletter on your website, social media channels, and other marketing channels.
11. Engagement With Social Media
Social media is an essential tool for engaging with potential bariatric patients and building brand awareness for your practice. By creating a strong social media presence, you can reach a wider audience, build trust with potential patients, and ultimately drive more business to your practice.
In addition to posting updates, engage with your audience by responding to comments, answering questions, and sharing user-generated content. This will help build trust and establish your practice as a knowledgeable and approachable resource for potential patients.
12. Informative Blogs
Maintaining an active blog on your bariatric practice's website effectively provides valuable information to potential patients and establishes your practice as a trusted resource. Regularly publishing informative and educational blog posts can attract more visitors to your website, engage with potential patients, and ultimately drive more business to your practice.
According to recent studies, 56% of companies who leverage blogging as a marketing strategy say it's effective. When creating blog content, focus on topics relevant to your target audience and address common questions and concerns related to bariatric surgery.
An informative blog can also help with search engine optimization (SEO), which is the process of optimizing your website to rank higher in search engine results pages.
Putting All 12 Design Elements Together
Adding these 12 essential web design elements for bariatric websites to your site can create an engaging and user-friendly web experience that'll attract new patients, keep your current ones, and help you stand out from the competition. Contact Glacial Multimedia to take your bariatric digital marketing to the next level!
---