Posted on September 23, 2019
How to Advertise the PanOptix Trifocal IOL
The recent FDA approval of the PanOptix trifocal IOL from Alcon has the eye care industry buzzing with excitement. The innovative lens is the first and only FDA-approved trifocal IOL that provides cataract surgery patients with clear vision at three distances — near (reading the newspaper), intermediate (computer work) and far (seeing while driving).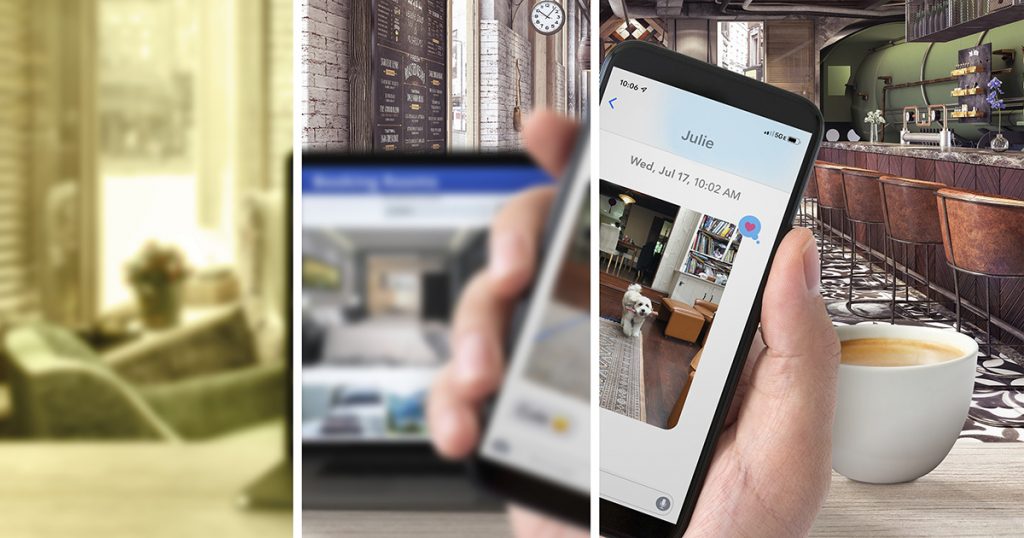 From left to right, vision with severe cataracts, vision with a monofocal IOL, vision with the PanOptix® IOL. (Photo: Business Wire)
PanOptix is the most state-of-the-art IOL available in the United States. As a medical marketing agency, this is especially exciting news! The availability of the PanOptix IOL provides more opportunities to reach the target demographic for cataract surgery, a goal once thought to be too challenging, too expensive, and a waste of a marketing budget.
Why would cataract surgery marketing be a waste?
There are several reasons why an eye care practice may not invest in digital marketing for cataract surgery. Maybe these questions sound familiar:
"Do people over age 65 even use the internet?"
Many people make assumptions about seniors and technology use, but the data shows that such assumptions couldn't be farther from the truth. 4-in-10 seniors now own smartphones, which is more than double the number from 2013. Internet usage among adults over age 65 has also increased at a rapid rate (more on this later).
"Why should I spend money on cataract surgery marketing instead of focusing on leads for LASIK?"
Another common assumption is that cataract surgery marketing campaigns don't generate as many leads as LASIK marketing. As a result, many eye care practices put their marketing budget toward LASIK lead generation. While there's nothing inherently wrong with this strategy, it's important to collect as much cataract campaign data as possible before coming to a conclusion on whether or not a campaign was effective.
"Is a PanOptix campaign really the most efficient way to spend my ad budget?"
It's good to be conscious of where your ad dollars go, so we commend you for that. However, we wholeheartedly believe a campaign for the PanOptix trifocal IOL is worth it. Remember, it's the first FDA-approved IOL that results in clear intermediate vision, which is most often used for working on the computer. This is appealing to a target demographic that is growing increasingly more tech-savvy.
The cataract surgery demographic is changing
Internet accessibility in the United States is at an all-time high. The nation ranks #1 in the world for the amount of internet service providers available to the public (over 7,000) and smartphones have never been as affordable as they are now. The same goes for computers, tablets, and smart home devices.
While the vast majority of Americans have adopted the internet as a utility, the most dramatic change in internet usage can be seen in one specific group — adults over age 65.
According to the Pew Research Center, 86% of adults ages 65 and older were part of the offline population in 2000. Today, that number has dropped to 27%. Barriers such as, "I'm too old to learn how to use the internet" aren't as much of an issue for Americans anymore.
Data also shows that more people are having cataract surgery at a younger age each year. As you can see from the chart below, the percentage of adults who use the internet increases at an even faster rate for younger age groups in the US.
The World Health Organization estimates that by 2020, 32 million cataract surgeries will be performed, compared to 12 million in 2000. If the average age of a cataract surgery patient gets younger over time, the future of cataract surgery marketing will include campaigns that target a larger, more tech-savvy group with greater variations in age. These are all factors that can significantly contribute to an increase in leads for cataract surgery.
Early PanOptix ad campaigns show promising results
Even though Alcon's state-of-the-art lens is new to the US market, we've already seen success with several Google ad campaigns for the PanOptix trifocal IOL.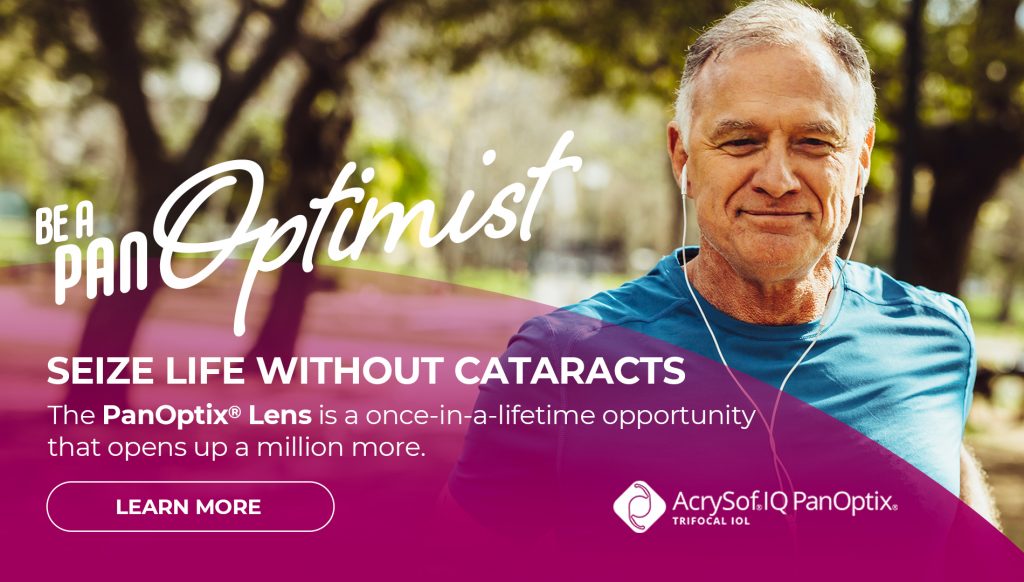 Paid search ad for the PanOptix Trifocal IOL, designed by Glacial Multimedia, Inc.
In an initial test, we saw PanOptix and trifocal-related search terms generate consistent click-through rates of 10% and above — some as high as 27% with meaningful traffic. This is an excellent indicator of high interest and intent with PanOptix-related keywords.
What are my options for a PanOptix marketing campaign?
Paid search advertising for Google and Facebook are our first recommendation for advertising PanOptix at your practice. Our strategy is straightforward and lead generation and conversions are easily measurable.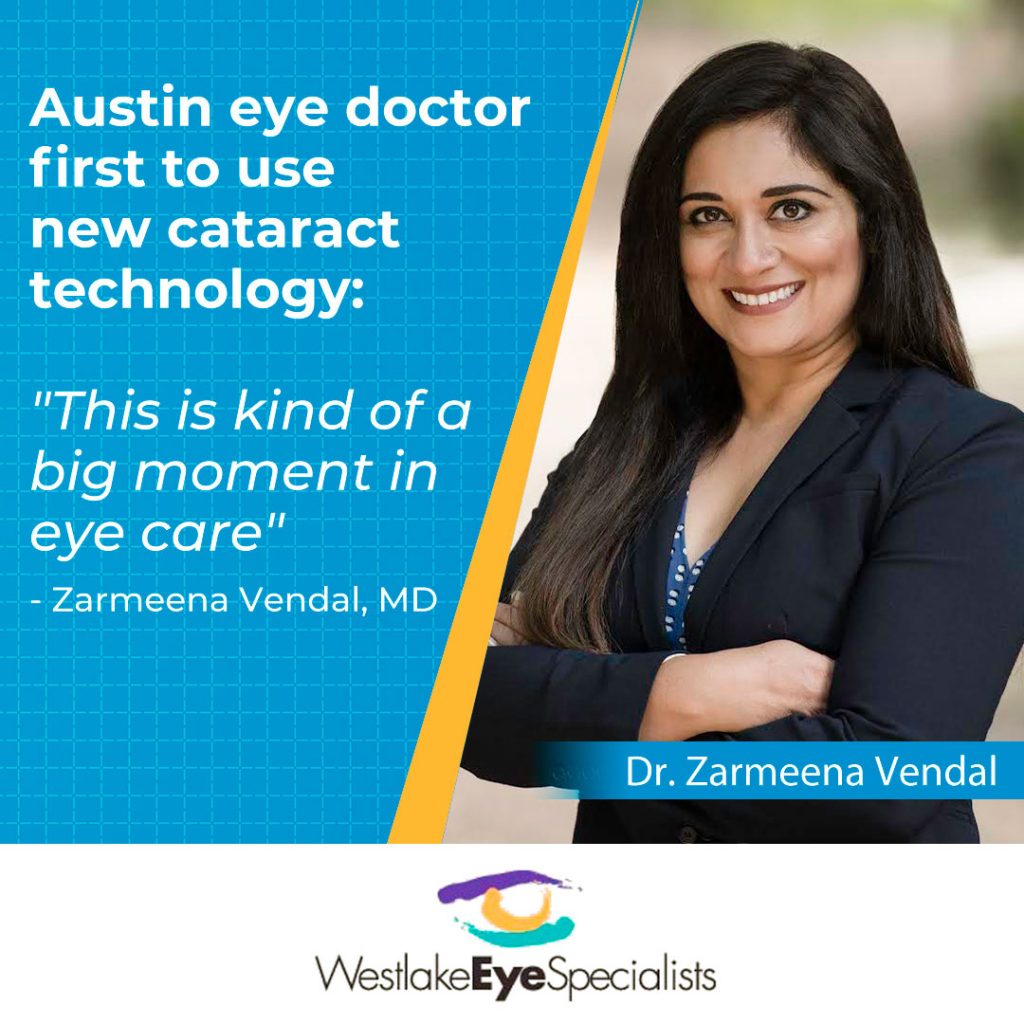 Facebook ad for the PanOptix Trifocal IOL, designed by Glacial Multimedia, Inc.
We also recommend content marketing for PanOptix. When locals in your town search Google or Bing for information on PanOptix or cataract surgery, keyword-rich pages of website content will help your practice appear at the top of search results.
Need ideas for content? We often suggest a long-form blog on PanOptix or a robust page of content on intraocular lenses. Email newsletters and email marketing campaigns are also excellent for educating patients on the benefits of trifocal IOLs versus monofocal IOLs.
Don't miss an opportunity to increase leads for cataract surgery
If your eye care practice offers the PanOptix as a premium IOL option, and you don't currently have a PanOptix-specific campaign or content marketing project in the works, you're missing an opportunity to reach an audience of highly qualified leads for cataract surgery.
As a digital agency that's been creating and managing effective medical marketing campaigns for 20+ years, we can help.
Fill out the form below to speak with a medical marketing specialist today!
---