Posted on April 1, 2020
Marketing Your Practice Through a Pandemic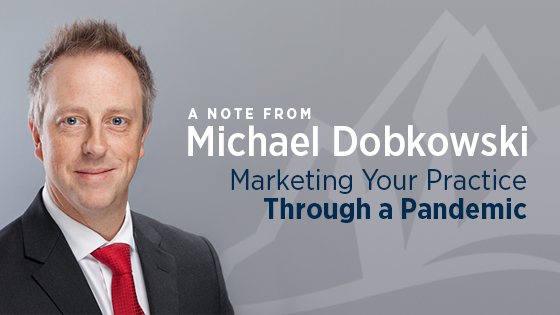 In the 20 years that Glacial Multimedia has been in business, I have never seen anything quite like the coronavirus pandemic. There's a lot of uncertainty, but we are trying to be as optimistic as possible. That's why we're doing our best to help medical practices come out of this stronger than ever.
I have had some time to reflect, and determine the best ways to help our customers. I have developed a list of items to help you with your marketing strategy during this uncertain time.
It is important that when we come out of this that you are ready to hit the ground running. You might be able to use this time to work on some digital assets that can propel your business forward once this is over.
This is a time to complete projects and strategize on how you will market your business in the future.
1. Communicate with Your Patients
It is important for your practice to continue communicating with patients. Now is the time to pick up the phone and call your patients about rescheduling or inform them about what your practice is doing.
One of our clients opened up their surgery center and facility for COVID-19 screenings.
2. Do Not Exploit the Situation
There is nothing worse than using this situation for your own personal benefit. This is one of the reasons I have been quiet, but not silent.
I did not want to misspeak about something that might change next week. As the economic situation changes, so will the marketing capacity of a business. Be mindful of how your business fits into the picture.
3. Be a Community Leader by Supporting Local Businesses
Now is the time to step up and be a community leader without exploiting the situation. Do your part by supporting local businesses in your area. Every little bit helps.
4. Consider E-Commerce
There are some wonderful options for e-commerce during this pandemic. Amazon has seen a tremendous influx of orders.
Patients want to get their medical-grade products without coming into your office. Let them order online.
MyEyeStore is a vision care vendor helping eye doctors sell their products online.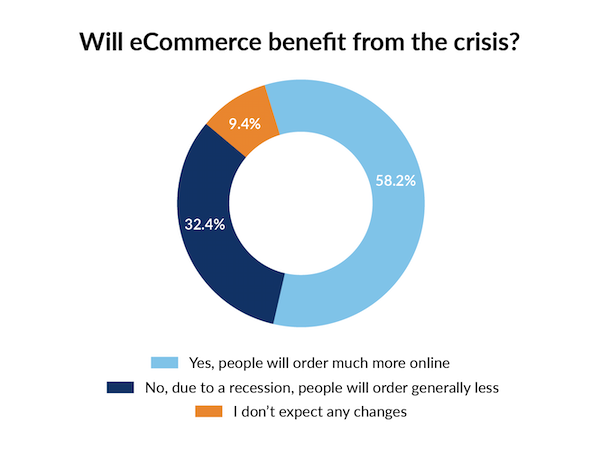 5. Reduce Certain Types of Advertising
I have thought long and hard about this one and after speaking with my team and colleagues, I have some thoughts. Although total searches and overall traffic is dropping during this trying time, people are converting at higher rates and conversions are cheaper as a result.
If budget is an issue, and I know it will be for many of you, I suggest a conservative approach to paid search campaigns, not necessarily canceling, but finding ways to reduce the ad spend. Digital branding is a less expensive approach and could get your name in front of a large group without costing too much.
If you continue to run search ads, watch the conversions closely. Our team can help you decide what may be best for your unique practice.
Some food for thought:
Since March 15th, compared to the previous period:
Conversion rates are up 8% (LASIK, Cataract and general eye care combined)
Click-through rates are up 17%
Clicks are down 40%
6. Elevate Your SEO
Besides not suspending PPC, you also don't want to suspend your SEO services. This is something that if it goes off the rails, it could take a long time to correct.
Of course, this depends on the market and competition but now is the time to actually throw a little more muscle into this. What are some of the ways to make your SEO better during this time?
Some things to keep in mind during COVID-19 include:
Reviewing your website content to make sure it's relevant and up to date
Considering blogging if it's not something your practice already has a strategy for
Looking at your on and off-page SEO strategy
Not sure if your practice has a game plan in place when it comes to your SEO or your on and off-page strategy? Talk to your client manager here at Glacial to come up with a feasible way to elevate your SEO during this time of uncertainty.
7. Enhance Your Website and Marketing Materials
Now is a great time to improve your marketing assets. Review your website, videos, and your messaging. After reviewing these, make the necessary changes.
When the pandemic is over, the ship can set sail once again, but this time bigger and better! I like to have solid videos, a great website, and an awesome logo for when I start a marketing campaign.
Do you have these set and established? Are they good quality?
Is it time to redo some of this? There's no better time than the present to give your marketing assets a refresh!
8. Introduce Virtual Consultations
We have seen a surge of doctors moving towards telehealth for consultations. Of course, this is popular right now, but this will also become a wave for the future.
Many people are going to learn how to use these digital tools more than ever before. I have been pleasantly surprised by the options and feedback from practices using this.
Options some of our clients are using are Simple Practice and Zoom Health. You may want to consider these if you are looking to introduce telehealth and virtual consultations as options for your patients.
9. Social Posting, Social Advertising, and Reviews
Social media posts, boosts, and ads are another way to get your message out to your community. We have seen an increase in traffic from social media increase month over month.
According to Adweek, Facebook ad costs are down significantly, depending on targeting. Facebook also said usage growth from COVID-19 is unprecedented.
Let's also not forget about reviews. Now is a great time to get your reviews system up and running and more effective. This is actually a great time to ask your patients for reviews because people generally have more time right now.
10. Build Your Email Marketing Lists
Now is a great time to collect email addresses for future marketing. On any branding, display, or digital media spends you should always have a place for people to sign up for an email newsletter.
Growing your natural, organic list could turn out to be a great decision that enables more marketing down the road. If you do not have a sign up for email or a newsletter on your website, now would be a good time to start.
This might also be a good time for a white paper to be released by your practice. Using a white paper can help your practice acquire new emails during the download process.
Final Thoughts
We are hopeful that this pandemic ends soon. As of right now, the Glacial team will keep working at home while practicing social and physical distancing.
Hoping for the best for everyone!
Michael Dobkowski / CEO and Founder, Glacial Multimedia
---