Posted on December 13, 2022
The Ten 'Must-Haves' For An Excellent LASIK Website [2023]
With over twenty years of experience in ophthalmology marketing, we have seen and created our fair share of LASIK websites. We've watched three worlds develop and advance: the fields of ophthalmology, digital marketing, and web development, and as a company have worked hard to be at the forefront of all three.
How do these fields interact? What brings them together, and what is the key to utilizing all three for success?
We don't believe you can score a medical website on a rigid scale. Each practice is different, and the way in which they represent themselves should be just that. However, we've seen the good, the bad, and yes – the ugly, and have found that even a beautiful website can fail as an effective practice tool.
So, what makes an excellent LASIK website? Is it beauty? Practicality? A return on investment? We've come up with a set of guidelines that we feel creates a truly incredible asset to an ophthalmology practice, and a seamless experience for prospective patients.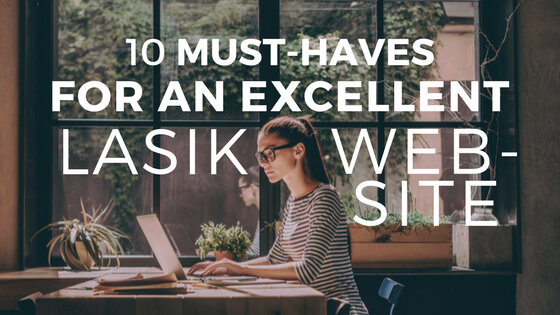 1. Responsive Website Design
With technology on the rise faster than ever, it's crucial to consider the benefits of a responsive website design. A responsive website is able to adapt to multiple device sizes, abolishing the need for a mobile site – when you have only one site to focus on, it's not only easier to manage, it increases ROI. A responsive site improves the user experience by simplifying usability, furthering the promotion of brand perception and adding SEO value.
2. Cohesive Layout
Your site's layout determines how you want your LASIK leads to learn, and what you want them to learn first. It must be clear and concise. Its structure needs to be simple (say goodbye to clutter) and its navigation intuitive. The essence of providing a seamless and memorable user experience lies in your site's structure.
Do you have to dig to find your practice's phone number, locations, patient resources, or "contact us" form? After perusing the homepage, is it still unclear exactly what services your practice offers? Are you overwhelmed with buttons? Do you find yourself getting lost in a rabbit hole of subpages? Chances are – your LASIK website needs some cleaning up. You can thank us later.
3. Engaging Content
Having a beautiful website is important, but even the most responsive sites need to have quality content on them. Quality content helps with the patient experience, and is only a plus in the world of SEO. An easy way to add high quality content to your site is by beginning to blog. Blogs drive traffic to your site, and populates new content, which is looked upon highly by Google and search rankings. Not convinced? It's also a fantastic way to keep your patients engaged, while giving your practice a cohesive voice that matches your branding efforts.
4. Strong Branding
Cultivate a practice brand that speaks to your LASIK demographic – there may be other practices in your area, but make them want to see you! Engage with your community, develop a practice-wide 'voice', and stick to the character of your practice. Highlight how the adventurous, the 'cool', or the intelligent want to come see you – you'll attract the right people if you cast the right net!
5. Testimonials
Testimonials are substantial to your practice's reputation. Testimonials represent evidence of ability as a provider, which in turn has the potential to provide your practice with instant credibility. Patient communication and engagement is key to providing the best possible quality healthcare while simultaneously building trust within new patients; people want to see real consumers giving their honest opinions about the care they were provided.
6. Engagement Tools
An interactive user experience is crucial to keeping users active on your website and capturing leads online. Giving prospects the opportunity to explore your website in an interactive manner increases session duration on the website, gets the practice more opportunities to capture lead information, and makes for a more pleasant online experience. Tools like the LASIK Calculator and Candidacy Quiz (LASIK Self Test) are fun for the user and act as a hands-off tool to capture leads.
7. Online Booking Capabilities
When it comes to your website, there are easy ways to add engagement objects for your patients. One great way is adding an online scheduler. Online schedulers allow your patients to make online appointments on their own time. Many people don't have time during the day to call and make appointments, and often prefer a simple way to pick a time, schedule an appointment, and never pick up a phone. It's easy for both practices and patients, making it a very valuable tool all around.
8. An Off-Page Presence
Off-page presence is an extremely valuable part of online marketing, as it is one of the the driving factors that propels leads to your site. Local search allows your business to promote directly to local customers that are searching for your type of services, while paid search targets the same group of consumers by using advertising that appears on the search engine. Facebook ads follow a similar approach – marketing on social platforms facilitate transparency and enables brands to be viewed as a trusted source.
9. A Sense of Urgency
When it comes to providing online offers, it is crucial to change the promotion frequently in order to maintain a sense of urgency and engage consumers. People are significantly more likely to want to take advantage of an offer if they know it's temporary. If an offer is promoted for an extended period of time, the consumer won't feel like there is a rush to take advantage since it could be perceived as available to them any time.
10. Follow Up Systems
If your website is generating LASIK leads, you must have a plan to keep these leads engaged. Find a system (we recommend MDprospects) that collects and tracks all of your forms, calls, and inquiries. After calling, informing, and engaging your prospects, your staff will be converting leads like never before!
If you would like to learn more about the steps you can take today to improve your LASIK website, be sure to contact us!
---