Posted on November 27, 2018
Voice Search Is Here, Is Your Practice Ready?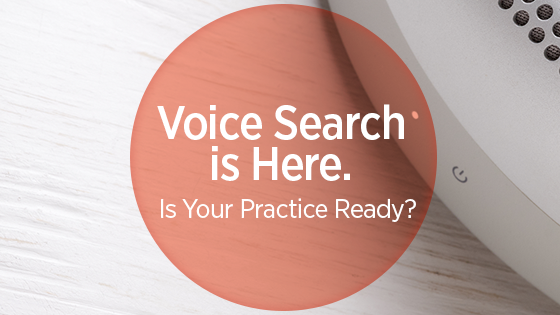 Amazon Alexa, Google Assistant, Siri, and Cortana. If you asked any of these digital assistants where your practices are located when they open, or what services you offer, do you know what they'd say?
If not, you're not alone. Each and every day your customers are asking these questions. In fact, 58% of consumers have used voice search to find local business information in the last year alone. Voice-powered search has created a substantial shift in how consumers find information about your brand. Is your practice ready?
Voice Search Is Here
According to Adobe's State of Voice Assistants report, 32% of consumers own a smart speaker. This is a 14% increase since January 2018 alone. This number isn't expected to stop growing anytime soon either! After the upcoming holiday season, it is projected that over 50% of consumers will own a smart speaker, along with 45% of existing smart speaker owners reporting they plan to buy another voice-enabled speaker for themselves.
Seventy-one percent of smart speaker owners reported using them at least daily.
"Brands are now in a place where they have to integrate voice into their overall strategy," said Adobe's Colin Morris.
The Glacial Solution
Attract patients
Since we're dealing with voice search, it's critical that you focus on showing, not telling. Start by showcasing crucial information about your physicians and facilities when patients are searching through any of their devices. This can include things like highlighting your office name, what insurance you accept, physician education, training, and more!
You should consider the things that make your practice stand out most from your competitors. Is it your warm bedside manner or a fantastic staff that makes patients leave happy? There are thousands of practices that patients can choose, so why should they choose you?
End Confusion
Voice search has a lot of power, both good and bad. Being able to ask a virtual assistant to look anything up is an amazing thing, but if you have incorrect listings online, you risk confusing patients.
This is part of why it's so important to make sure all the information about your practice is correct. This includes information like phone numbers, addresses, and hours of operation. Imagine a patient is having a medical emergency and asks their Alexa to pull your information to call. If the wrong phone number is listed, you're wasting time that they could have spent getting help.
Besides being dangerous to your patients, listing incorrect information on your online listings or having duplicates can make you seem like less of an authority to Google. Everything that you do online can hurt or help your SEO, and duplicate listings are no exception!
Google wants to make things as easy as possible for people who are searching online. By having incorrect or duplicate listings, your practice and website may not be seen as an authority to Google. What does this mean for your practice?
You may see your SEO rankings start to plummet, which could hurt your website traffic and amount of leads. It's a vicious cycle, so make sure all the information about your practice is correct online.
Alexa, what do you know about my business?
You can't control the user experience or the algorithms behind today's voice searches, but your practice can supply them with the most up-to-date information about your business, so they give consumers accurate answers. The Local Search experts at Glacial Multimedia are here to help you structure and manage all public facts about your brand.
Our direct integration with Amazon Alexa as well as Google, Apple, Bing, Facebook, and other leading services give you the peace of mind that those facts make their way into the databases behind the voice-powered searches of today and tomorrow. Contact us today to get your practice ready for the world of voice search.
Who we are
Since the year 2000, Glacial Multimedia, Inc. has been employing cutting-edge technology to bridge the gaps between medical companies and their customers.
By integrating a mix of medical website design, search engine optimization, internet marketing, web video/audio production, website analytics, social media optimization, and software development, we simply create ideas that succeed. In an ever-changing marketing field such as digital marketing, it is easy to make a wrong turn or poor decision.
---